Without any doubt, the flip book maker software helps book publishers and business owners showcase their book and products in a sleek document.  Today, more and more people tend to access online book from smartphones, laptops and e-readers. So, when you start to create your online flipbook, it is necessary to integrate the selected software with mobile device, which, to some extent, would help to spread your flipbook item.
Mobissue is a kind of new and advanced flip book maker software, with which you can create your unique and professional mobile flipbook in seconds. There are a lot of limitations when it comes to create a publication, you will be not annoyed with the cost and resource consumption if you use this innovative technology.  In this article, I'm going to show you how to create an elegant mobile flipbook for free with Mobissue this digital solution. And let's start right away…
First, you can click here to go to its website, and upload your destination PDF to the online platform, which can let you quickly create a fabulous page turning flipbook from the still document.  On the online platform, you are easy to manage your flipbook as you want. There are 4 different types of templates for the option: Flip, Cool, Normal and Slide, choose one of your favorite templates to describe the flipbook.  A variety of scenes also can give you the ability to create a dynamic and charming background for your book. Besides, you are allowed to customize the advanced settings, such as adding background sound, choose the book language, set caption color, page number and so on.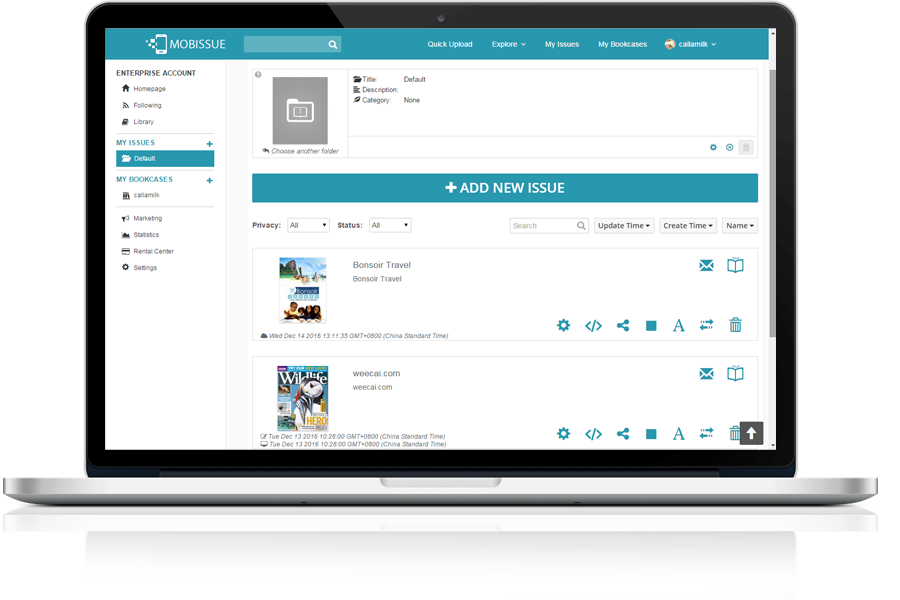 Second, Mobissue provides you another chance to make your top quality flipbook with direct operation in its program.  This program can be downloaded freely for everyone from the homepage. With Mobissue digital program, your PDF file can be imported easily, and the page ranges to import can be set on your own. Such advanced settings as Import Link, Import Table of Content and Import Search can also be customized as you like. Just in a matter of minutes, your PDF file will be converted into attracting page flipping book immediately.  Like on the online platform, you can pick an appropriate template and theme for your digital flipbook in the program.
In addition, you are capable of customizing a series of settings: Loading Settings, The Display Settings, Control Settings, and Background Settings, etc. With Mobissue program, the outstanding Animation Editor will bring the users convenience to add multiple media to enrich the digital content.  For example, they can add beautiful images and slid show to present their interesting stories, embed sound and video to distribute more information, or choose to insert hot spot to highlight those important contents.  All of these are very easy and simple, even you are just a beginner, you can do a good job.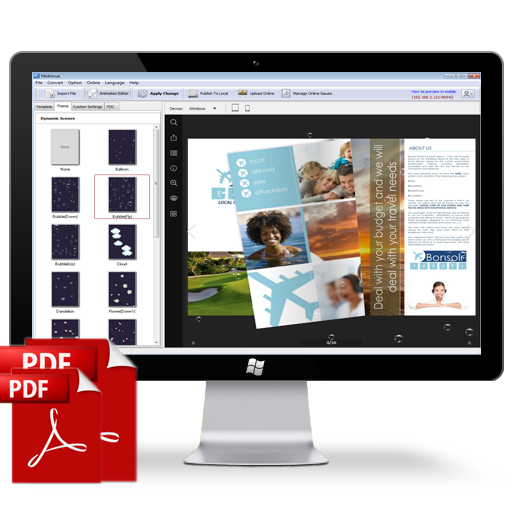 Well, one of amazing features offered by Mobissue is that the users can make it possible to share their flipbook and appreciate it on mobile devices.  If your book is generated on the online platform, you can directly share your book and then scan the QR code to view the flipbook on mobile browser. While the digital flipbook is produced in the program, you first need to publish it online, and then get the QR code, open your mobile and scan the code, you will easily view the elegant flipbook on the mobile.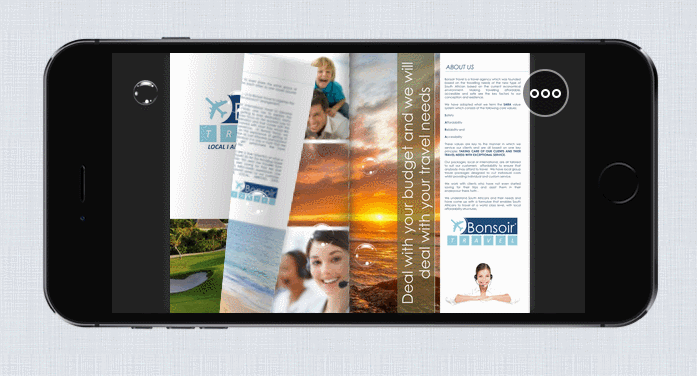 In short, both creative methods can help you quickly and simply make a stunning flipbook, and you can have a try now. Create  your stylish flipbook and enjoy a mobile reading experience.